Facts regarding electrical accidents
What happens when current flows through the body? Why are electrical accidents so dangerous if they are not treated medically?
Source: Quarks, Westdeutscher Rundfunk Cologne 2020
Several thousand companies incorporate the Austrian electrical industry – this corresponds to approximately 50,000 employees and an annual turnover of EUR 18 billion.
Source: Austrian Chamber of Commerce, Electricial and Electronical Industry Report 2018
In 2018, 254 electrical accidents happened, of which two were fatal. The most common causes of accidents were defects in the electrical system and carelessness. About a third of the casualties were electrically qualified persons.
Source: Federal Ministry for Digital and Economic Affairs of the Republic of Austria, Electrical Accident Report 2018
The average cost of an electrical accident is around 45,000 EUR. The casualties are off work for at least 10 days on average.
Source: Austrian Workers' Compensation Board
524 electrical accidents happened in Switzerland in 2018, 98% of which were in low voltage applications. Safety rules were disregarded in half of the accidents.
Source: Swiss Federal Inspectorate for Heavy Current Installations ESTI, Annual Report 2018 Electric Accidents
In addition to the monetary consequences of being unable to work, work processes have to be reorganized, accident analyzes need to be drawn up, retraining courses carried out, and colleagues looked after.
68% of all workers would use smart wearables for their daily work if they can take advantage of their work safety and if personal data is protected. These solutions are, therefore, an essential component for industry 4.0.
Source: AT Kearney & WearHealth, Why wearables are an important piece of the puzzle for Industry 4.0, 2019
How does the emergency call chain work?
In emergencies, users are often no longer able to react themselves or react correctly. ANGEL React provides fast help thanks to the sophisticated automated emergency call chain.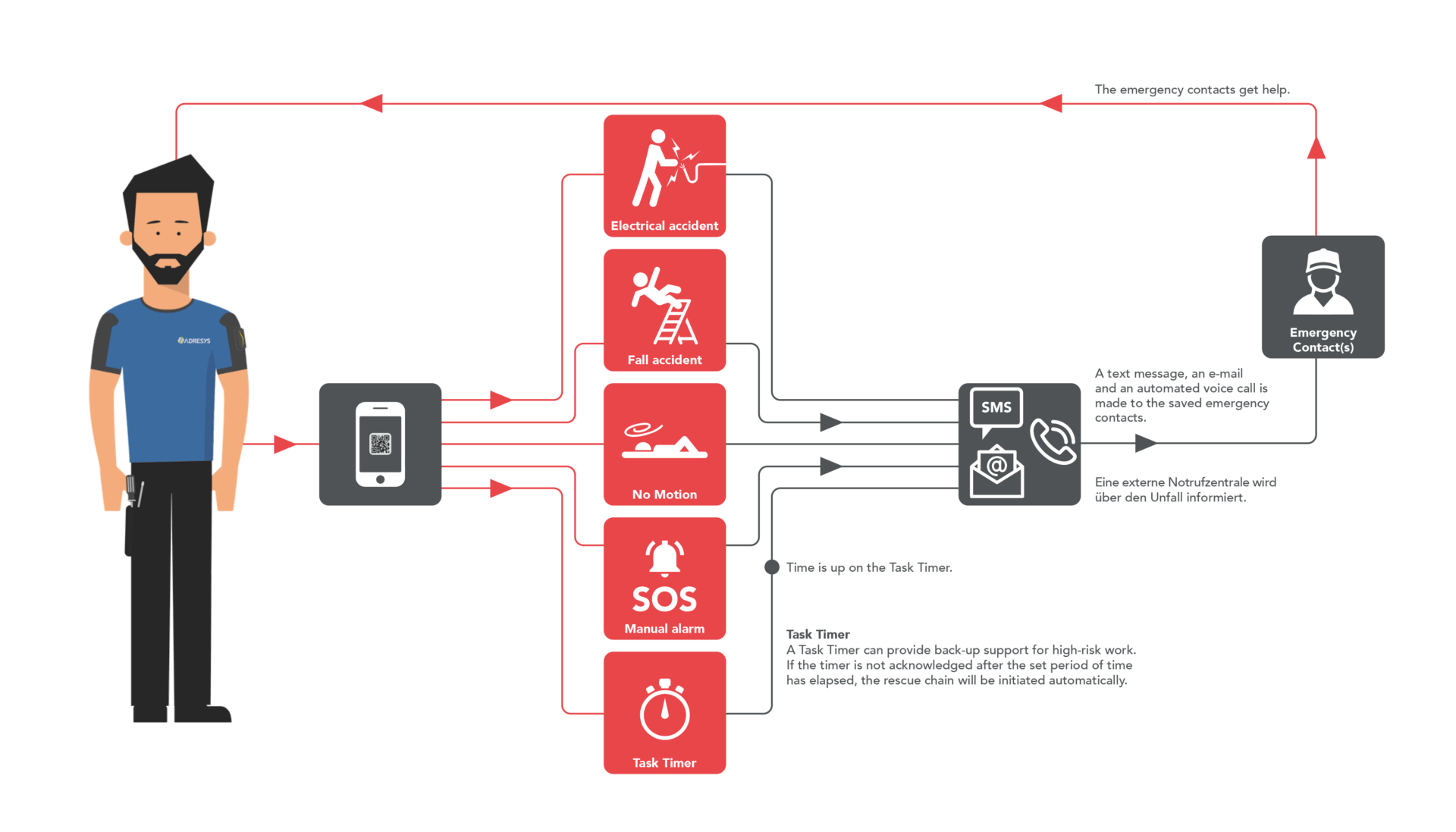 The user enters their data and the data of their emergency contacts in the ANGEL React portal during registration.  The personal emergency chain is activated in an emergency, such as automatic accident detection, a manual alarm or an expired task timer. The emergency contacts are informed via SMS, e-mail and an automated voice call and can thus provide rapid assistance.  The person's location in the accident is transmitted via SMS and e-mail. An emergency call centre can also be booked if the person works mainly alone. The emergency call centre provides rapid assistance if the emergency contacts cannot help.