ANGEL – Smart Electrical Safety Assistant
ANGEL – when smart electronics and comfortable textiles merge. ANGEL is the intelligent workwear for emergencies in the electrical sector. The electronics recognize an electrical accident or a fall via integrated electrodes and can automatically activate the individual rescue chain. In addition, the manual alarm can be started for further emergency situations. When working with an increased risk, the task timer can be activated to ensure rapid assistance.
Intelligence through
perfect synergy
The fab four offer many advantages
The four components include a clever Genius together with a smart textile shirt, an intuitive app on your cell phone, and a quick-response ANGEL Watchdog that disconnects sources of electrical power.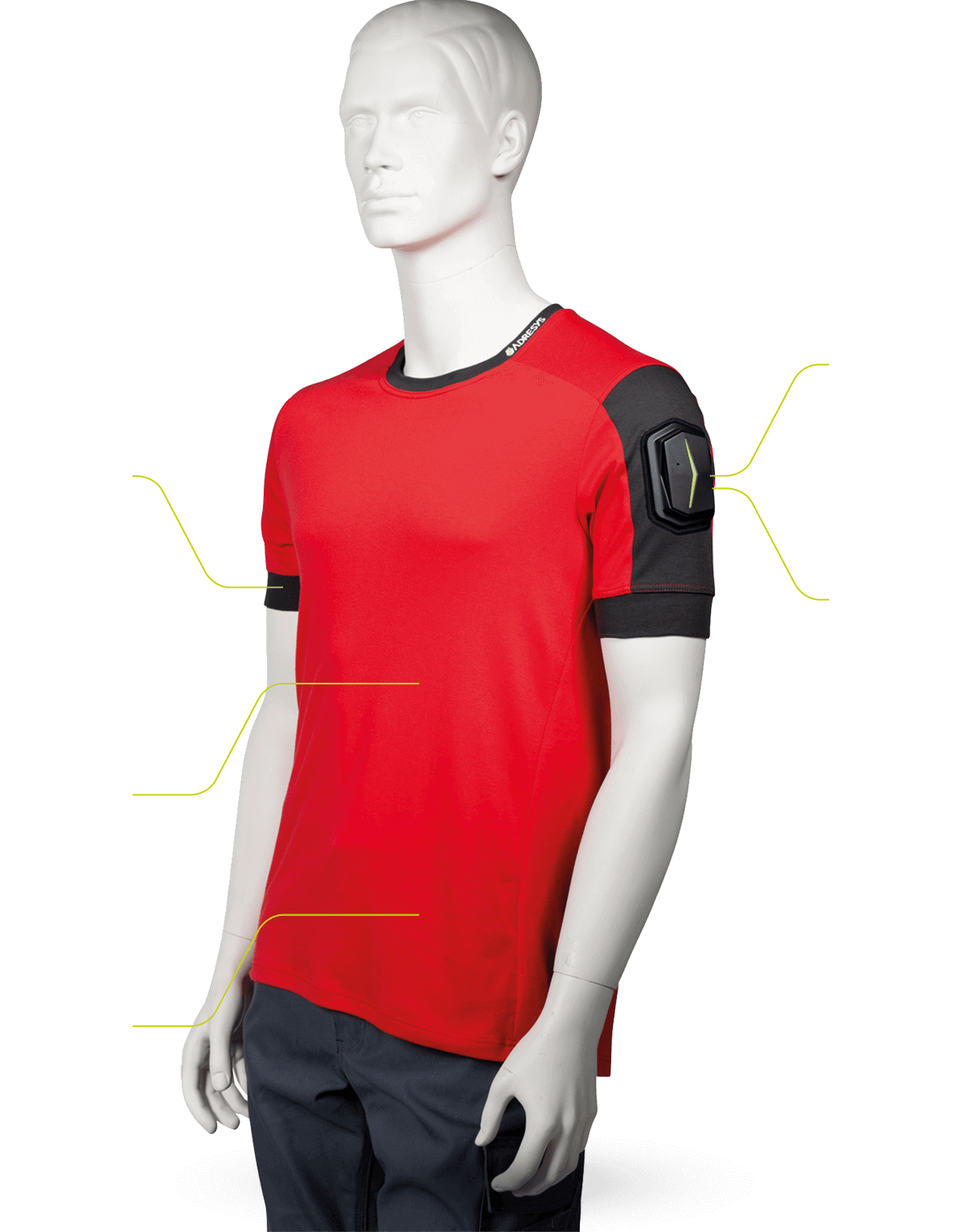 Central control unit – the Genius
The Genius is the brains of the system. It clicks into the cradle (the holder) on the shirt and communicates with the user using optical and acoustic signals. The Genius detects the voltage drop on the body, monitors the movements of the user, and notifies the emergency call center using the smartphone app which is connected via Bluetooth® technology. (see below left).
Powerful processor for detecting emergencies
Battery life of 2 days
Light and compact
Blends in perfectly with the shirt
Powerful magnets provide a secure grip on the upper arm
A suitable holder – the cradle
The cradle is a sleek holder for the Genius. Its curved shape allows it to fit perfectly around the upper arm. You can barely even notice the electronics protecting you.
Conductive materials and electrodes
The conductive textile cable connects the sensors on the upper arms to the Genius. The voltage between the upper arms is measured using electrodes, from which the current level is deduced. The silicone electrodes detect a voltage drop. Elastane in the cuffs provides close skin contact. A perfect fit is essential because only then the ANGEL system can provide reliable protection.
Individual branding
Uniform appearance is guaranteed: the shirt is available with your company-specific branding.
Extremely comfortable
The smart textile shirt is made of eco-cotton, kind to the skin, durable, easy to clean, and comfortable to wear thanks to its generous cut. Attractive stitching gives the shirt a sporty look.